Private Banking - the Danish way
Many banks offer investment advisory services and portfolio management. So does Jyske Bank. However, we insist on giving you something more. At Jyske Bank, you will have closer personal relations than many would expect from an international bank. Our advisory services are dominated by our Danish values and adjusted to local conditions.
Therefore, you can look forward to a different and unpretentious bank which is not quite like others.

---
Focus on personal relations
'At Jyske Bank, we prefer an informal dialogue and attach great importance to personal relations. We offer our clients relevant and understandable advice in an unpretentious way. We have clients in many countries, but Jyske Bank's mentality is and will be Danish. And the clients notice this when they get in contact with us', explains Manager Kirsten Hansen.
Jyske Bank's decision processes are short and uncomplicated. Every client has his/her own personal relationship manager who can and may take decisions, so the way from word to deed is not long.
No bonus
All Jyske Bank employees earn a fixed monthly salary that does not depend on sales. For investment clients this means that he/she can be sure that the loyalty of the relationship manager is in the right place. The relationship manager can focus 100% on the client's interests without considering his own personal gain.
'We believe in lasting relations based on confidence. Therefore, it is important that individual relationship managers are not driven by a personal sales bonus. At Jyske Bank, relationship managers are motivated by real interest in the client', explains Kirsten Hansen.
Sustainable bank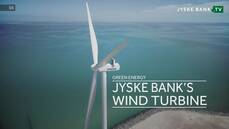 Jyske Bank wants to run a company that conducts itself responsibly and promotes a sustainable development of society. And these 'nice words' are also translated into action. For instance, Jyske Bank has bought a wind turbine covering our own power consumption. Read more about sustainability at Jyske Bank.
---
More details: Jyske Bank's business and financial strength
---
Pay attention to...
Place of residence: If you are a Danish resident, we can help you via this offer (in Danish).
Tax: Jyske Bank will obviously not aid and abet in tax evasion. Being a client at Jyske Bank, you must be able to document to us that the funds you wish to invest have been declared to the tax authorities in the country of which you are a tax resident.
This rule applies irrespective of which type of account you hold with us.